If people find you online, can they tell that you're a real estate agent who's skilled at serving downsizing seniors?
I know a lot of agents who have an SRES (US and Canada) or ASA (Canada) designation whose websites don't really highlight this expertise. They serve a variety of clients – not just seniors – so they try to make their online presence appeal to a broad audience. They don't want to exclude any potential clients.
As a result, their messaging can come off sounding generic. As a reader, I may have to dig for information that relates to downsizing. And if I have to dig, chances are I'm going to assume it's not there, conclude they can't help me, and move on.
How to incorporate senior-specific messaging
If you're serious about attracting downsizing seniors, you need to develop messaging and educational content that's specific to that group. But that doesn't mean you have to do it at the expense of your other clients.
A good example of a REALTOR who serves a range of clients, but who's managed to showcase her downsizing expertise on her website is Ana Ideias. She's a Master ASA in Ottawa who took my 5-week course on writing to attract seniors when I first offered it in November 2020.
Here's the "A Little Bit About Me" section on her home page:
---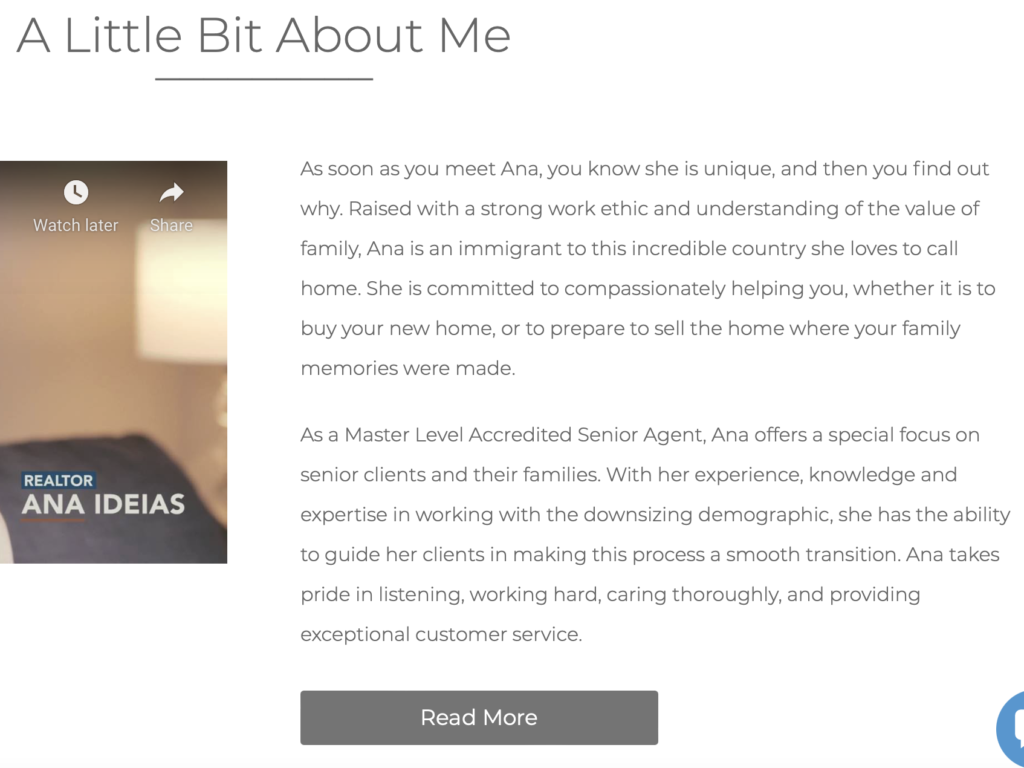 ---
Notice how her first paragraph speaks to a general audience that includes new home buyers, but her second paragraph is entirely devoted to her "special focus on senior clients and their families."
Ana has also created a downsizing section that contains a lot of valuable educational resources.
---
---
If you want to see her full website, check it out here.
Figure out what to say and how to say it
Mind you, you don't have to have a website like Ana's to attract seniors. But you do need some language that makes it clear you can help them with the special challenges of downsizing, whether that message is delivered through social media posts, emails, ebooks, seminars, brochures, postcards, one-on-one conversations, or what have you.
Here's the thing, though. Before you double down on any particular mode of communication, you need to figure out what to say and how to say it. Otherwise you stand a good chance of being ignored.
Honing your message comes first
Which is where my Messaging That Attracts Downsizing Seniors course can help out. It teaches you how to articulate what you have to offer as a REALTOR who understands downsizing.
I'll be offering the course again this Spring. Stay tuned for further details.
Coming up next week
Next Monday, I'll offer insights on writing voice and how it influences what downsizing seniors think about you. Until then.